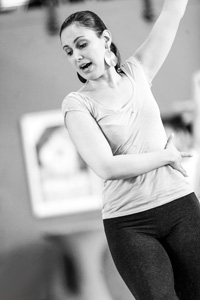 Internationally acclaimed dancer Melissa Rosado, AKA "The Mambo Princess", is one of the top international instructors and performers of NY Style Mambo "On 2." She is an energetic and charismatic dancer who is known all around the world for her unique, sexy styling and body movement on and off the dance floor, powerful stage presence, and passionate love for teaching. In addition, her humble attitude and welcoming personality is what makes her popular amongst the mambo community today. She has an ability to effortlessly follow any lead and is known to be one of the best examples and instructors of the Eddie Torres technique.
Melissa has shared stages with some of salsa's greatest musical legends such as Tito Puente, Celia Cruz, Tony Vega, Eddie Palmieri, Wynton Marsalis, El Gran Combo, Jose Alberto "EL Canario," Gilberto Santa Rosa, Menique and many others. Furthermore, she has performed at prominent venues such as Madison Square Garden, Lincoln Center, Apollo Theater, and Manhattan Center. Some of her television appearances include a promotional commercial for Univision (Channel 41) with merengue celebrity Millie Quezada, as well as a video production of "Oye Como Va" with legendary salsa singer Celia Cruz. In 2006, as part of the Eddie Torres Dance Company, she was featured in the CW's segment on Hispanic Heritage Celebration.   In late 2011, Melissa acted as a consultant and was featured in the one of New York's most prestigious newspapers "The New York Post" on its piece of how and where to mambo in NYC.   Furthermore, she interviewed with WFUV's Cityscape host George Bodarky regarding the New York Salsa On 2 style and its roots. Not only has Melissa  shared her talent in many festivals and congresses only in the US, but also  internationally in countries such as  Italy, Switzerland, Spain, Russia, Portugal, France, Canada, Turkey, England, Korea, Japan, Austria, Germany, China, UK, Australia plus many more.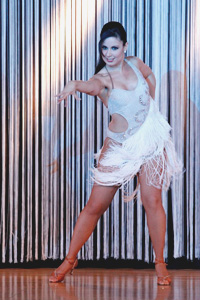 The Bronx born native has trained in a variety of dance styles consisting of Ballet, Jazz, Tap, Hip-Hop, African, Afro-Cuban, and Flamenco since the tender age of 5.   It was not until the age of 9 that she discovered her passion for mambo when she began taking classes with Eddie and Maria Torres at the Kips Bay Boys and Girls Club in the Bronx. After years of training under Eddie and Maria and being a part of the Kips Bay Boys & Girls Club Senior Dance Company, she was later invited by Eddie and Maria to become one of the first members of the Eddie Torres Junior Company, which made its debut at Madison Square Garden in 1995. She continued to study and train in the Eddie Torres technique and later became part of the Eddie Torres Senior Dance Company and teaching staff, one of the top in the nation, while attaining her Master's Degree in Forensic Psychology at John Jay College in NYC. During this period,  she had the amazing opportunity to work as Eddie Torres' partner until 2006 and again in 2011. Shortly after leaving the Eddie Torres team, she partnered with Eddie Torres principal dancer Adolfo Indacochea for almost two years, performing and teaching as one of mambo's international leading couples.   Currently, she is an established and highly sought out solo artist who continues to make her mark on the salsa scene today.
In 2013, she officially formed both a semi-pro ladies team titled  "Inaru" (meaning spirit of women) as well as a children's competition company  titled "Petite Royale" which perform all over the tri-state area.   Not only does she choreograph for her teams, she is one of the most sought out instructors, coaches and choreographers worldwide for many dance schools, teams, and couples.  Many students from all over the world come to NY just to train with Melissa.  In addition to teaching  youth classes in the Bronx,  she provides special event choreographies for weddings, Sweet 16's, competitions, and more.
Melissa's extraordinary talent and genuine love for mambo is evident through her captivating stage presence, sensual style and sincere manner with people. It is for this reason that she is considered to be one of the most prestigious and sophisticated dancers of her generation.